The Ministry of Helps is the most misunderstood ministry in the Bible. Most believers don't even know there is such a thing as Helps Ministry. They think that if they are doing something in the church and not getting paid that they are just volunteers. Nothing could be further from the truth. Yes, if you're not getting paid you could say "I'm just a volunteer", however, the Bible sees it differently.
The primary mention of the Ministry of Helps in the Bible is found in I Corinthians 12:28 (emphasis added) – "And God has set some in the church, first apostles, secondarily prophets, thirdly teachers, after that miracles, then healings, HELPS, governments, diversities of tongues."
We will use this verse as the primary verse concerning the Ministry of Helps throughout this blog post.
Now, let's further break down the meaning of this ministry.
A Volunteer vs a Helps Minister
So, what is the difference between being a volunteer and a "Helps Minister?" First, the Bible lists "helps" with the other ministry gifts. Next, the mindsets of volunteers are completely different than that of Helps Ministers.
Volunteers:
Consider themselves "just helpers."
They only help when it is convenient. They're not committed.
Do not see themselves as essential parts of the church or ministry.
Fail to see the rewards in serving.
Helps Ministers:
They realize their service IS A MINISTRY.
Know that they are a vital part of the church and ministry. They are committed.
Know they have been empowered to minister within the guidelines set forth by the leadership of the church.
Understand that their service is building up eternal rewards.
1 Corinthians 12:28
Now let's take a look at I Corinthians 12:28 again and find out more about Helps Ministry.
I Corinthians 12:28 – "And God has set some in the church, first apostles, secondarily prophets, thirdly teachers, after that miracles, then healings, helps, governments, diversities of tongues."
According to I Corinthians 12:28, where did God set the ministries? "And God has set some in The Church..."
Let me ask you a question. Is the church still here? Yes, the church is still here. So, if the church is still here and God set the ministries of I Corinthians 12:28 in the church, then these ministries are still valid for today. Because God set these ministries in the church, that means the Ministry of Helps is a supernatural ministry.
We must recognize that it is a uniquely anointed, and appointed ministry. God is not a respecter of people or ministries. Helps Ministry is just as anointed and valuable and important as the other ministries listed in I Corinthians 12:28. God has set certain ministries in the church to fulfill one primary function: to serve in a supportive role. Helps and governments were instituted by God to do just that. They are supportive ministries. So, what exactly is the ministry of helps?
What Exactly Is the Ministry of Helps?
The word "helps" is the Greek word antilepsis or antilempsis, which means "a laying hold of, an exchange, or to lay hold of, as so to support." In other words, if you are helping anyone in the church, or if you are helping the weak or needy, you are operating in the ministry of helps, a gift set in the church by God.
This ministry is just as valid, just as anointed, as if God ask you to be a prophet. God is not a respecter of persons. If you are rendering assistance in any way inside or outside the church walls, you are operating in the supernatural ministry of helps. Again, the ministry of helps is as anointed as the calling of the prophet. A minister of helps is someone who commits himself to another ministry in order to support or assist in any way he or she can.
The word "support" can be defined as "to uphold by aid, to assist as a subordinate character (one who functions underneath to uphold another), to be able to supply the funds necessary to continue on." It also means "to assist or further a cause, or to act as an aid or an attendant of someone or something."
Weymouth translated the word "helps" as "rendering loving service." This is an excellent definition! Operating in the Ministry of Helps is, indeed, to your church, to your pastor, and ultimately and most important to the Lord. Everything that is done through the Helps Ministry is to be done in love because God is love.
Someone once said that the word HELPS was an acronym: Having Enough Loving People Serving. Only about 20% of the church body does 80% of the work.
Ministry of Helps and the Great Awakening
Today, the Ministry of Helps is more important than ever. With the "3rd Great Awakening" upon us, there will be a massive influx of souls coming into the Kingdom. We are going to experience a spiritual renewal like never before. Most churches could potentially double overnight and they are not prepared for that kind of growth.
God is a good father and he will not send His babies to a church where they will not be taken care of. God is also a wise master builder. He wants to build a strong foundation that He can build upon. The Ministry of Helps is part of that foundation.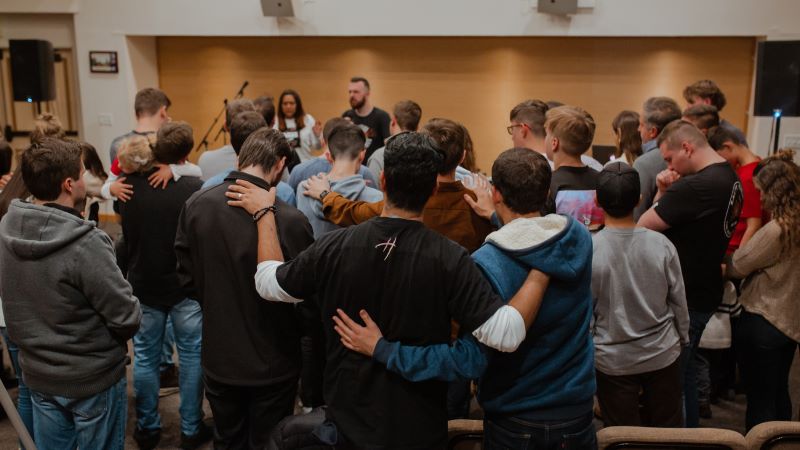 When someone comes to your church for the first time their first impression is going to be with a Helps Minister. They will make up their mind within the first 6 minutes if they are going to like your church and stay. They will not hear the anointed preaching or the awesome worship. No, their first impression is going to be with the parking lot attendant or the greeter. It might be the nursery worker or usher. It could even be with your information booth or people in your congregation that are in the lobby. The church congregation is a reflection of the pastor.
When a visitor steps onto your campus it could represent years of prayer. If they don't have a good experience, they could leave and Holy Spirit would have to start working on them all over again.  
Our Role With the Ministry of Helps
When 9-11 happened, a great many people were afraid and came to the church for answers. Unfortunately, either the church didn't give them answers or they weren't ready to take care of them so they didn't stay. With everything that is going on in the world today again, there are a great many people that are afraid and looking for answers.
When they come to your church will you be ready to give them the answer or take care of them?
Our heart is to help prepare the church to be ready so that it doesn't happen again like after 9-11.
To provide this, we offer Helps Ministry training for churches and ministries that want to learn more about Helps Ministry or how to better implement Helps Ministry in their church/ministry. You can learn more about the Helps Ministry training that we offer here.