Cancer is Not a Death Sentence – Our Healing Journey
Michael's book, "Cancer is Not a Death Sentence", is a living testimony of faith and prayer lived out during a terrible season in our lives. Page after page demonstrates how followers of Christ can and should rely on the promises of Scripture, the prayers of other believers, and the Lord Himself to orchestrate circumstances for our good. This story will encourage you because it is a documentary of God's faithfulness!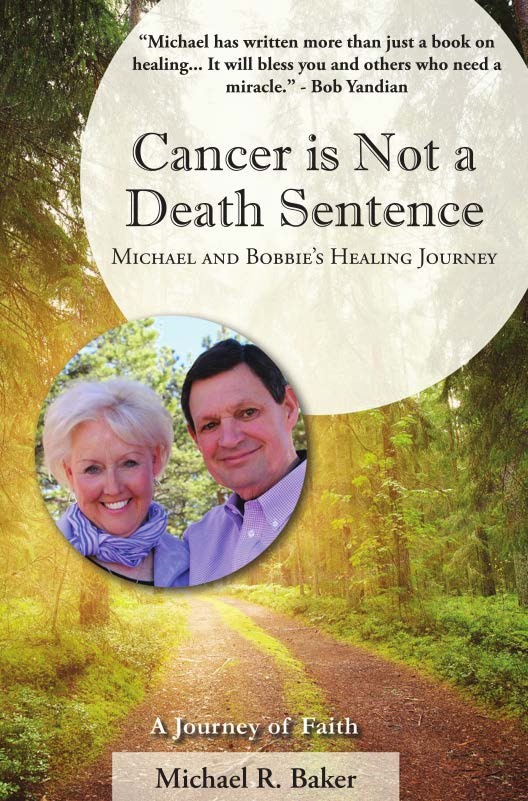 Recent Reviews
This is a warm and encouraging biography of walking through stage 4 cancer and coming out victoriously! The book is engaging and written as though they were talking with you over a cup of coffee- a very easy read. This testimony always encourages those with a dastardly cancer diagnosis. I highly suggest it!
This actual account of Michael's and Bobbie's walk through a very trying time in their lives is truly a miracle of God. Their constant focus on Him, and His Word, standing firm on the promises, brought them out on the other side healed, healthy, and with a testimony of God's faithfulness and love. He's always looking for folks who will believe Him, take Him at His Word, and He found that in this couple.
This couple is relatable and they offer an answer which isn't commonly seen. Rather than just recommending another clean-eating diet plan, which certainly has it's place, they address the whole person – as evidenced in their personal account. Their practical insights are enlightening and will bring hope and encouragement to anyone facing similar obstacles.
Start Your Healing Journey
After being diagnosed with throat cancer, Michael is living proof that what God did for him He can do for anyone who believes in Him. Begin your own healing journey today!
You can purchase our book below or you can preview it by downloading the Introduction.
Connect With Us
Subscribe to our mailing list below and stay in touch with us and what we're up to!
Mailing List Subscription Form